Delhi Celebrates Trailblazers of Excellence at Grand Inauguration of Honorary Doctorate Awards Season 1, 2023
New Delhi (India), August 2: Delhi witnessed a magnificent celebration of brilliance and achievement as the inaugural Honorary Doctorate Awards Season 1, 2023, unfolded at the Mapple Gold Banquet in Paschim Vihar on 29th July, Saturday. Organized by Wadhawan India Career Counseling Services and Rainbow Charitable Trust, in collaboration with WEAA Entertainment, the event lauded […]
Delhi Celebrates Trailblazers of Excellence at Grand Inauguration of Honorary Doctorate Awards Season 1, 2023
New Delhi (India), August 2: Delhi witnessed a magnificent celebration of brilliance and achievement as the inaugural Honorary Doctorate Awards Season 1, 2023, unfolded at the Mapple Gold Banquet in Paschim Vihar on 29th July, Saturday. Organized by Wadhawan India Career Counseling Services and Rainbow Charitable Trust, in collaboration with WEAA Entertainment, the event lauded the exceptional contributions of more than fifty individuals from diverse fields.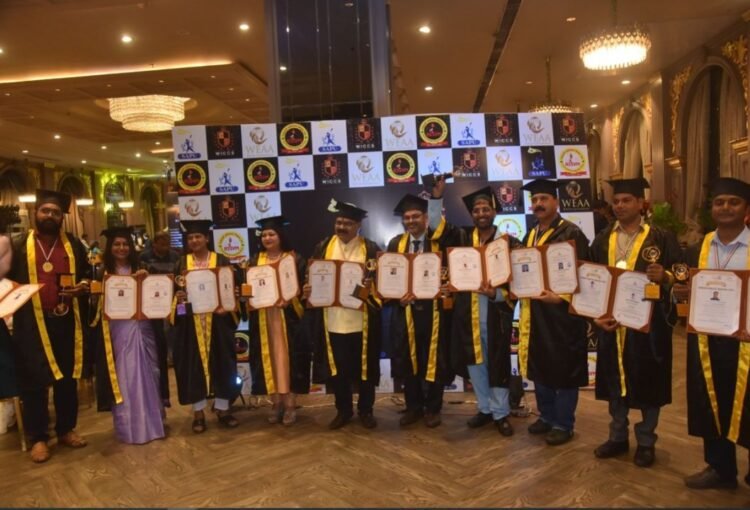 The prestigious ceremony brought together more than 50 distinguished personalities from India and abroad, who were recognized for their outstanding dedication and impact on social welfare and various professions. From inspiring leaders to visionary entrepreneurs, esteemed educators, and skill development experts, the awardees represented a rich tapestry of excellence.
The show organizers, Kamal Wadhawan, Manish Gupta, and Management head Harish Soni, expressed their joy at witnessing the inaugural season's resounding success. "We are immensely proud to recognize these exceptional individuals who have brought about positive change in their respective domains," said Kamal Wadhawan.
The coveted Honorary Doctorate degree, conferred with the esteemed "Social Awareness and Peace University" accreditation in Florida, United States, added an aura of distinction to the awardees' achievements. The recognition bestowed upon them serves as a testament to their impact and dedication to their fields.
As the ceremony concluded, the organizers announced plans to expand the Honorary Doctorate Awards show to Pune and Jaipur for the next season, promising even greater celebrations of excellence and inspiration in the years to come. The event was graced by esteemed Chief Guest Mohan Lal Badoli, Member of Legislative Assembly (MLA) from Rai constituency, Celebrity guest Kuldeep Sareen (Bollywood Actor) Special guest Jitendra Kaushik (Politician).
List of Awardees:-
ROSALIN PARIDA: – NATUROPATHY
NIKITA PANDEY: – OCCULTISTS
SUNIL KUMAR: – FINE ARTS
SHWETA PATIL: – SOCIAL SERVICES
GRIMA MALIK: – BUSINESS ADMINISTRATION
KARUNSH RAGHUWANSHI EDUCATION
TANAYA GHOSH: – EDUCATION
USHA KIRAN: – NATUROPATHY & COSMOTOLOGY
M P SINGH: – MEDITATION & HEALING
PANKAJ GUPTA: – ASTROLOGY
PAWAN KUMAR SINGH: – EDUCATION ADMINISTRATION
DEVANSH: – COMPUTER SCIENCE
HARKIRAT SINGH: – BUSINESS ADMINISTRATION
AKSHITA SHARMA: – EDUCATION
AZAZ NADIR CHARANIA: – AESTHETICS
RAJANI DEVI: – SCIENCE & RESEARCH
ASIF ANSARI: – MEDICINE
NIKHIL GUMBER: – BUSINESS COACH
CH GAYATHRI: – RESEARCH AND SOCIAL INFLUENCER
UPAMA KUMARI: – EDUCATION
RAM AVATAR TAYAL:- SOCIAL SERVICES
SURESH SAINI: – SOCIAL SERVICES
PRASHANT KUMAR TIWARI: – SPORTS MANAGEMENT
KARIM KAIDWAR: – WILDLIFE SCIENCE
MAMTA MOHAN: – SOCIAL SERVICES
LAXMI: – AYURVEDIC REASERCH & Healing
SWAPAN KUMAR NATH: – POETRY & WRITING
SAIF: – BUSINESS MANAGEMENT
MEENU BATH MALIK: – ENGLISH LITERATURE
ANANYA: – COSMETOLOGY
ABUL QASIM ABBASI: – EDUCATION
SURYADEVARA RAMAKRISHNA: – RESEARCH AND DEVELOPMENT
YOUNUS MOHAMMED: – ACUPRESURE HOMEOPATHY MEDICINE
DR MOHD SHAHBAZ: – DIABETES REVERSAL
ASHOK SAINI: – SOCIAL SERVICES
SRINIVAS PATEL PUNYALA: – NATUROPATHY & TRADITIONAL MEDICINE
DILIP GOPINATHAN: – BUSINESS ADMINISTRATION
JYOTI: – NATUROPATHY AND AROMA THERAPY
ALWIN VIJAY: – EDUCATION
MOHAMMED ANSAR UOOROTHIL: – BLOCKCHAIN AND GLOBAL FINANCE TECHNOLOGY
GAURAV MEHROTRA: – BUSINESS MANAGEMENT
YASHBANT MOHANTY DOGRA: – MEDICAL COMMUNICATION AND IT HEALTHCARE SERVICES
KARTAR SINGH CHOWDHARY: – SOCIAL SERVICES
ARADHYA SHUKLA: – EDUCATION
AMAYARAA YADAV: – MOTIVATIONAL SPEAKER
MANISH KUMAR: – COMPILING THE GENEALOGU OF MAHARAJA AGRASEN
RAVI AGGARWAL: – SOCIAL SERVICES
SACHIN DRUPADA YASHWANT SHIGWAN: – RURAL DEVELOPMENT THOUGHT SOLAR ENERGY
KULDEEP SAREEN
MANDAKINI CHHABU PATIL: – SOCIAL SERVICES
SHAHROZE RIZVI: – MAGNETO ACCU THERAPY & HEALING SCIENCES
APPORB MATHUR: – GRAPHICS DESIGNING
VIDHI BHATNAGAR: – SPRITUAL ENERGY HEALER
ARUN CHHABRA: – SOCIAL WORKER
ANSON GEORGE THOMAS: – ANIMAL REHABILITATION
DEEPA GUPTA: – VASTU SHASTRA
RAJESH SURENDER KUMAR AGARWAL: – SHARE MARKET
Dr. SACHIN TANAJI ETAM: – PHYSIOTHERAPY IN MUSCULOSKELETAL CONDITION